How to Get Dog Hair Out of Your Car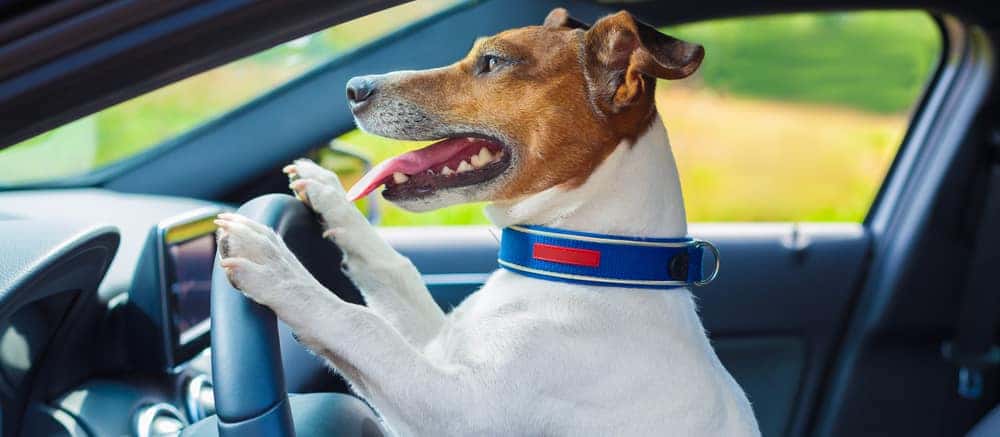 Whether big or small, long-haired or short-haired, there's nothing better than hitting the open roads of Lakeland with your dog along for the ride. But along with this fun pastime comes the inevitable issue of dog hair sticking around on your seats and interior surfaces. Thankfully, the question of how to get dog hair out of a car has plenty of helpful answers! Explore some simple tips and special tools to help remove pet hair from a car, below.
Household Hacks for Getting Dog Hair Out of a Car
Sometimes all you have time for is a quick fix using common items that can be found around the house in Valrico. Take a look at some trusted options:
Duct Tape/Packing Tape
Damp Rubber Kitchen Gloves
Fabric Softener Sheets
Inflated Balloon: Blow up a balloon, then rub it over the seats and carpet in your car's interior to pick up hair.
Velcro Curlers: If you're borrowing these from someone, just be sure to ask if it's okay first and clean them again before you give them back!
Special Tools to Help Remove Dog Hair from a Car
Need to know how to get dog hair out of car seats? The majority of the tips you see below are meant to help pick up hair from fabric seats, as that tends to be the most difficult. If you need to remove pet hair from leather upholstery, simply wipe the seats down with a microfiber cloth, then gently take a lint roller to the area for a solution that won't damage the leather.
Pet Hair Roller: This tool resembles a Swiffer sweeper as it has a long handle, but you'll see that it has an ultra-convenient and ultra-sticky lint roller at the end – perfect for picking up every last hair.
Fabric Sweeper: Available to buy from most major grocery stores around Brandon, this is a hand-held tool that uses two rollers together to not just remove pet hair, but trap it inside a compartment on the device so you don't have to worry about transferring the hair elsewhere.
Pet Hair Brush with Rubber Bristles: You might already have one of these brushes in your home. Typically, it has different size rubber bristles on each side of the brush. You can give your dog a brushing before they get in the car to pre-emptively remove loose hair, or utilize the rubbery material to pick up hair from your seats.
Grooming/Deshedding Glove: This glove is intended to be worn while you put your dog to pick up loose hair, but it doubles as an effective tool to collect stubborn hair that may be hiding out in your vehicle's hard-to-reach nooks and crannies.
Pet Hair Removal Mitts: Because these mitts are made with a soft fabric, they're ideal for removing dog hair from delicate microsuede surfaces or leather upholstery without pulling or scratching it.
Fur Remover Broom: Do you have three big dogs who shed a lot in your car? Gear up with this rubber bristle broom to give an overall sweep of your car seats, floor, and cargo area.
Tips for Lakeland Gardeners
It may seem odd (or even a little gross) to save the dog hair you remove from your car. But if you're an avid gardener who cares about keeping pests away from your plants, you can put that hair to good use! Rodents and deer are repelled by the scent of dog and human hair, so if you sprinkle your dog's hair around the edge of your garden, you might find fewer critters attempting to move in on your veggies and flowers.
Learn More About Car Care at Stingray Chevrolet
Do you have your own best way to get dog hair out of a car? Contact us and let us know! We're always happy to hear new tips from local Plant City drivers, but what we love even more is to share them in our service information hub! Whether it's advice on how to remove dog hair from a car or how to remove corrosion from a battery, we've got you covered.
More from Stingray Chevrolet
If you're shopping around Lakeland for a versatile mid-sized truck, you'll want to check out the 2022 Chevy Colorado trim levels, as well as the Colorado packages for truck bed accessories, and Chevy Colorado interior packages. Take a moment to review all of the options the Colorado provides. Then, contact Stingray Chevrolet to book a test…

With a 259-mile driving range on Lakeland, the fully-electric Chevy Bolt packages offer more than enough range to get you around town without gas and then some. Before you apply for financing and test drive the Chevy Bolt at Stingray Chevrolet, read on to learn about how much the Chevy Bolt costs by trim level. We'll…

If you're someone who likes to test your limits and get the most out of every drive, then the Chevy Corvette C8 is the car for you. Check out the Chevy Corvette C8 specs with Stingray Chevrolet to see how you can give your Lakeland commute a serious kick-start, and then visit our dealership to give…