2022 Chevy Corvette C8 Specs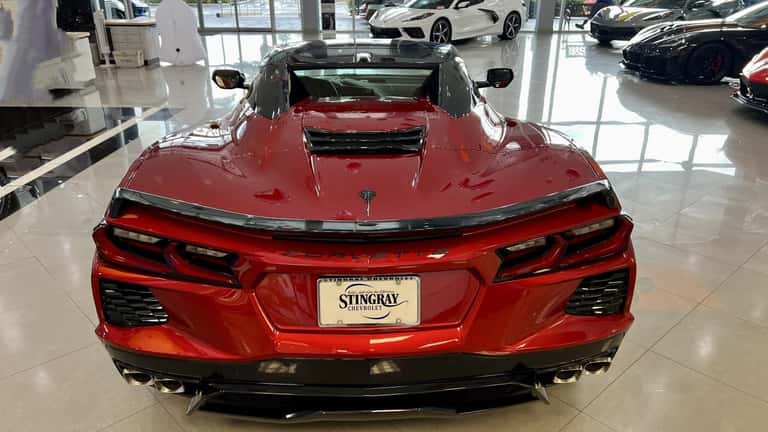 ---
If you're someone who likes to test your limits and get the most out of every drive, then the Chevy Corvette C8 is the car for you. Check out the Chevy Corvette C8 specs of this 2022 Chevrolet Corvette convertible with Stingray Chevrolet to see how you can give your Lakeland joyrides a serious kick-start. We'll also cover highlights from the Corvette C8 interior. Then, visit our dealership to give this high-speed vehicle a test drive to experience C8 Corvette 0-60 MPH time in person. After you take it for a spin, see how you can get your very own Chevy Corvette C8 from us at a price that you'll love. 
Chevy Corvette C8 Engine Performance
When you start up the engine of the 2022 Chevrolet Corvette C8 convertible, you'll be able to feel its breathtaking power at every turn. Check out the highlight performance specs of the Chevy Corvette C8 to see how you can conquer the Valrico roads: 
6.2L V8 LT2 engine

490 horsepower

465 lb-ft of torque

Power-retractable seats
Rear Camera Mirror* Rear park assist* and HD rear vision camera*
Bose premium 10-speaker system
Chevrvolet Infotainment 3 system*
Standard 8-way power GT1 seat and power tilt and telescopic steering column

C8 Corvette 0-60 mph of 2.9 seconds

Top track speed of 194 mph

8-speed dual-clutch transmission

15 mpg city and 27 mpg highway
Chevy Corvette C8 Technology & Design
The Chevy Corvette C8 model's legendary performance is made possible thanks to its powerful engine under the hood, but there is so much more that goes into making the 2022 Chevrolet Corvette C8 convertible the vehicle it is. Check out the high-grade performance technology specs and design features of the Chevy Corvette C8: 
Mid-Engine Placement:

The 2022 Corvette C8 model's mid-engine placement allows for the cowl, hood, and steering wheel to be lower than normal, making your forward vision clearer than it's ever been. 

Intake:

8 equal length runners that are 210 mm long, which maximizes torque and airflow to every cylinder. 

Dry-Sump Scavenge System:

Three scavenge pumps work to pump oil from the engine, which ensures high oil quality and that it flows to critical areas during g-force cornering. 

Exhaust Manifolds:

Stainless steel headers run into split-volume catalytic converters for high airflow. 
Check out all of the technology features and performance capabilities of the Chevy Corvette C8 for yourself when you take a test drive at our dealership near Brandon. 
Chevy Corvette C8 Interior Features 
Step inside the 2022 Chevrolet Corvette C8 convertible, and you'll find a cockpit inspired by fighter jets. Every stitch of this sporty interior has been designed to optimize the thrills of driving the C8. Expect intuitively placed paddle shifters and buttons that allow you to fine-tune the handling of the C8 while you're taking tight turns on the track. You'll even enjoy features like a Performance Data Recorder, so you can review track performance, set goals, and best old records.
Finally, the C8 also features technologies to enhance everyday driving. Highlights include the Chevy Infotainment 3 System, Apple CarPlay/Android Auto compatibility, as well as a 14-speaker premium Bose sound system.
Discover the 2022 Chevrolet Corvette C8 Convertible at Stingray Chevrolet
Contact us to explore the abilities of the Chevy Corvette C8 firsthand and change the way you drive forever. We can give you an in-depth tour of the C8 Corvette interior and give you a visceral taste of the C8 Corvette 0-60 MPH time.
More From Stingray Chevrolet
The C8.R race car brought home back-to-back IMSA GTLM manufacturer championships, and that mid-engine piece is available on the streets of Lakeland. The model available on the roads has a powerful naturally aspirated V8 engine, the handbuilt LT6 5.5L engine can be seen through the rear window of the coupe. The 2023 Corvette Z06 also…

If you're someone who likes to test your limits and get the most out of every drive, then the Chevy Corvette C8 is the car for you. Check out the Chevy Corvette C8 specs of this 2023 Corvette Stingray COUPE, 3LT RWD with Stingray Chevrolet to see how you can give your Lakeland joyrides a serious…

The 2023 Chevy Traverse is among the most popular mid-size SUVs in greater Lakeland. Often singled out for its performance and capability, the 2023 Chevy Traverse interior is also quite impressive, offering seating for seven passengers and plenty of stretching room—and the cabin is surprisingly luxurious. Take a moment to learn more about the…