How Much Is Insurance for a Camaro?

Thinking of upgrading your Lakeland driving experience with a new Chevrolet Camaro performance car? You may be curious, "How much is insurance for a Camaro?" On average, drivers pay $181 per month for Camaro insurance, equaling out to about $2,172 per year.* Keep in mind, however, that your premium may differ depending on your policy, driving history, location, and your vehicle. Learn more about Camaro insurance rates and how the cost can differ with Stingray Chevrolet, below!
Minimum Liability Coverage in Florida
In Florida, drivers are required to carry the following minimum liability coverage amounts:
Bodily Injury for One Person: $10,000
Bodily Injury for All Injuries: $20,000
Property Damage: $10,000
How to Compare Insurance Products & Services
When you're shopping for Chevy Camaro insurance, you'll want to consider the following factors:
Cost & Deductible: Auto insurance policies will differ depending on the insurance company, so be sure you're providing the same information for each quote you get, and choose a premium and deductible that fit your unique monthly budget.
Minimum Coverage: Ensure you're getting at least the minimum required coverage for Florida by referencing the prices we noted above.
Optional Insurance: Many Valrico drivers will increase their insurance coverage with optional policies like uninsured motorist coverage and personal injury protection.
Policy Add-Ons: Depending on your insurance policy, you may be able to get additional coverage like roadside assistance and accident forgiveness. If they're not available in your policy, you'll want to think about whether they're worth the extra cost.
Policy Restrictions: Ask about policy restrictions to avoid coverage issues in the future.
Warranty: Occasionally, car warranties and auto insurance overlap in terms of what they cover, so be sure to compare your warranty vs. insurance policy to see if there's anywhere you can cut costs.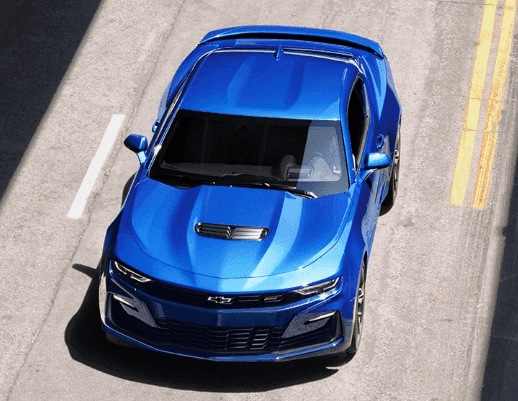 What Affects Camaro Insurance Rates?
The premium you receive is based on a number of factors, with the most significant being the chances of you filing a claim and the costs that will come with it. Even if you have a perfect driving history in Brandon, the type of car you drive will impact your premium. So, how do insurance companies view the Chevy Camaro? Take a look at our breakdown:
Car Type: The Camaro is a muscle car or "pony car." It reaches up to 650 hp and 200 mph.
Likelihood of Theft: High-performance two-door coupes like the Camaro are stolen less frequently than sedans and pickups.
Repair Costs: According to Edmunds True Cost to Own, the 2019 Chevy Camaro's average maintenance and repair costs for Plant City drivers are about $5,724 over a 5-year period.
Safety Ratings: The 2019 Chevy Camaro earned a 5-star overall safety rating from the NHTSA.
Fuel: The Camaro is gas-powered, making it cheaper to insure than a hybrid, EV, or diesel-powered vehicle.
Feature Options: If you opt for a higher trim level like the Camaro ZL1 rather than lower trims like the 1LS or 3LT, you're likely to pay more for insurance.
Because the Chevy Camaro is a performance car with many feature options, the cost of Camaro insurance will be noticeably higher than your average economy vehicles like the Chevy Cruze or Malibu. With that said, its fuel type, safety ratings, repair costs, and low theft rates could help you to save some money.
Find Your New Chevy Camaro at Stingray Chevrolet!
Ready to get behind the wheel of the Chevy Camaro? Contact us to schedule a test drive in Plant City today and feel the thrilling performance delivered by this infamous Chevy sports car. If you have any lingering questions about Camaro insurance, don't hesitate to reach out to our friendly finance team, who can tell you more about our new vehicle specials designed to help you save. We'll even help you finance a car with bad credit!
*Source: https://www.finder.com/car-insurance/chevrolet-camaro-insurance-rates
More from Stingray Chevrolet
View Corvette InventoryContact Us The timeless Chevrolet Corvette seems to get better and better every year. The latest Corvette Stingray engine choices are very impressive, with power that can get drivers from Lakeland to Valrico in no time. With the high-octane power and unbeatable speeds that could only be found in a truly iconic sports…

View Equinox InventoryContact Us Drivers from Lakeland to Valrico are gravitating toward the sleek new Chevrolet Equinox. After taking a look at the Chevy Equinox specs, it is no mystery why. This competitive SUV comes packed with plenty of great features at an affordable starting price. Whether you're looking for a spacious ride for your…

Environmentally conscious drivers around Plant City appreciate their electric vehicles because instead of burning fuel, electric vehicles (EVs) runs on electricity. That means you save time and money by avoiding the gas pump, and you do your part to protect the environment by reducing your carbon footprint. The new Chevy Bolt EV is one of the…