How Long Does It Take to Charge the Chevy Volt?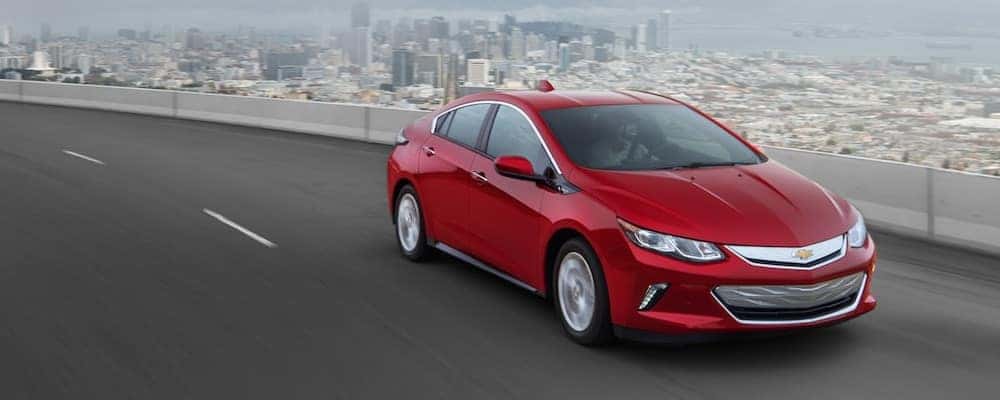 The 2019 Chevy Volt is one of the top choices out there for drivers in Brandon looking for alternatively fueled vehicles that are well-equipped, efficient, and convenient. This plug-in hybrid offers a combination of all-electric and traditional gasoline power–but how long does it take to charge the Chevy Volt? The short answer to that question is that it depends on the kind of charger you're using. Find out how long you can expect it to take for your Volt to charge, and then come to Stingray Chevrolet in Plant City for a closer look at Chevy's popular PHEV.
Chevy Volt Charging Times
120-Volt Charger: The Chevy Volt comes standard with a 120-volt portable charge cord, which can simply be plugged into a regular 3-pronged wall outlet. With a charging speed of around 4 miles per hour, this setup lets you get up to a full charge in around 13 hours.
240-Volt Charger Unit: Upgrade to an available 7.2 kW onboard charger with an available 240-volt charging unit to get around 22 miles per hour charged and a full charge in around just 4.5 hours.
AeroVironment Level 2, 32 amp EVSE-RS: Get this unit professionally installed and use your 25-foot cord to reliably charge your Volt up to 2.5 times faster than with traditional cord sets.
Chevy Volt Driving Range
You'll never have to worry about running out of power when you're behind the wheel of the new Chevy Volt, which comes with:
1,100 miles between fill-ups when you charge it regularly.
Up to 53-mile battery range, which more than covers the 40-mile round trip of an average daily commute.
Up to 420 miles of total range with a full charge using a combination of electric and gasoline power.
Automatic and seamless transition from electric to gas range when electric power runs out.
Test Drive the New Chevy Volt Near Lakeland Right Now!
Compare the Chevy Volt vs. Chevy Bolt, see how much it costs to charge a Chevrolet. Check out the new Chevy Volt as well as the new Chevy Bolt electric car near Valrico at Stingray Chevrolet, your source for quality new cars, fast and easy financing, and a variety of new vehicle specials. We're located at 2002 N. Frontage Road in Plant City, FL, and you can give us a call at (813) 359-5000. While you're here, check out our guide to how much it costs to charge a Chevy Volt.