The team at Stingray Chevrolet wants you and your family to feel safe and comfortable behind the wheel of your new Chevy sedan, SUV, or truck. One of the most effective ways to stay protected from infectious diseases like Coronavirus is to disinfect your vehicle by giving it a deep clean. Read on for tips on how to disinfect a car interior at home!
---
It Starts With You
Helping to slow the spread of COVID-19 in Tampa begins with following the CDC's guidelines. Here are a few to keep in mind:
When you leave home, wear a face mask or a heavy cloth over your mouth and nose.
Use gloves to keep your hands clean in public — just make sure you don't touch your face while wearing your gloves.
While running your essential errands, practice social distancing; avoid close contact with others.
Wash your hands for at least 20 seconds with soap and water.
Carry a small bottle of hand sanitizer that contains at least 60% alcohol.
---
What are the Best Car-Cleaning Materials to Use?
When you're ready to sanitize your Chevy, you'll want to make sure you have the items you need to kill any viruses and germs that may be lingering. Follow these tips to make sure your car is safe after every Lakeland errand:
Use disinfectant wipes to sanitize the exterior and interior of your car. Wipe down the surfaces you and your family regularly touch, such as door handles and control buttons.
Disinfectant soap and water can be used in small amounts to clean areas like door handles and hard plastic consoles. Avoid using soap on materials like cloth, vinyl, and leather. This also goes for cleaners like hydrogen peroxide or bleach; these are highly effective cleaners, but will likely damage your car. Also, avoid any ammonia-based cleaners.
If your car has leather upholstery, you can use makeup wipes that contain moisturizer to give it a good clean. Or, you can condition your leather to mitigate the drying effects of alcohol-based distinctive wipes.
---
How to Disinfect a Car Interior
After you've gathered your cleaning supplies, it's time to zero in on prime spots for bacteria, viruses, and other germs, such as:
Steering wheel
Control buttons for navigation, air conditioning, etc.
Paddle shift levers
Display screens
Cupholders
Cubbyholes
Air conditioner vents
Door handles
Gear selector lever
Turn indicator stalks
Console armrests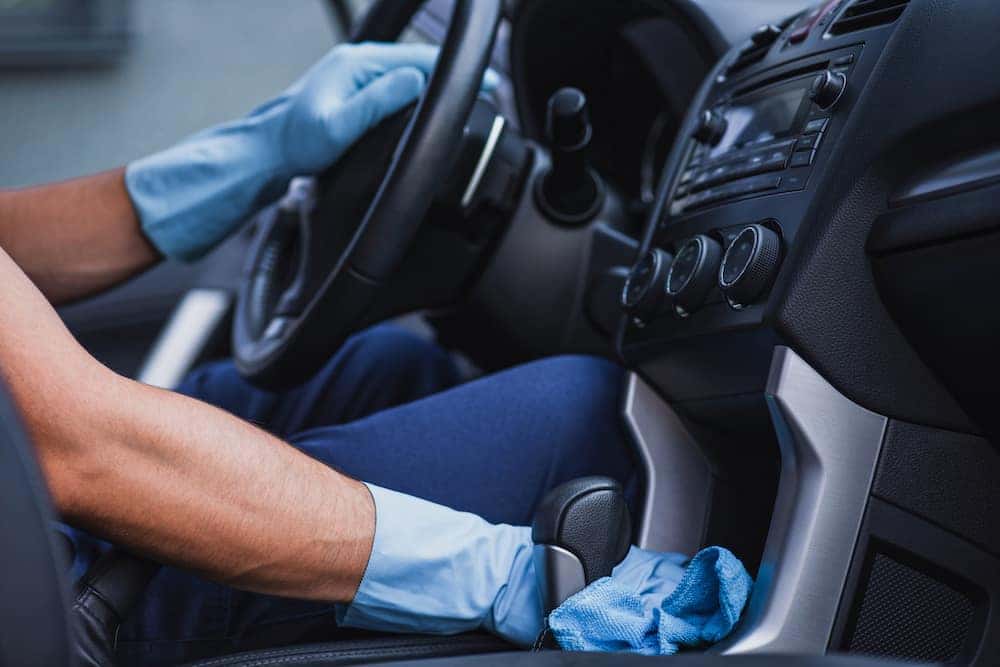 ---
Get More Tips From Stingray Chevrolet
Do you have more questions about how to protect your vehicle from Coronavirus in Tampa, FL? Our service team can provide answers. Contact our service center online or give us a call at . You can also check out our service tips and tricks hub for more information on how to care for your car at home.
Please remember to be safe and follow social distancing guidelines to help curb the spread of Coronavirus. Learn more about the steps Stingray Chevrolet is taking during the COVID-19 pandemic.